Source: finance.si
Author: Jurij Šimac
From January 1st, 2015, anyone selling or renting out their property in Slovenia has to have an energy performance certificate. Owners who attempt to advertise their property without citing the information on the document will be fined up to EUR 250.
From January 1st you cannot market your property in Slovenia without an energy performance certificate. Also a real estate agency can be fined (up to 2,500 euros), if the inspector decides that the advertisement without the certificate is misleading. After February 24th building owners will have to put forward the certificate prior to the sale or rent of buildings, before the contract is concluded or could be fined up to 300 euros. A fine of 1,000 to 10,000 euros will be imposed on a legal entity for not displaying an energy performance certificate in a prominent position in public buildings.
What is an energy performance certificate?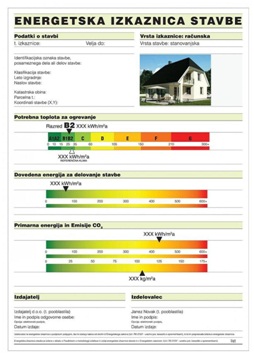 Energy Performance Certificate for buildings is a European instrument for promotion of energy efficiency. Certificate is required by law when a building is constructed, sold or put up for rent for a period longer than 1 year. A certificate is also mandatory for all public buildings with an area of more than 500 m2 (of July 9th – with an area of more than 250 m2).
The certificate is aimed at owners which will obtain credible and independent professional assessment of the energy performance of buildings, as well as recommendations on how to improve it, while potential buyers or tenants of real estates get a clear picture of the energy efficiency of a building or apartment and possible future interventions in the building.
An energy performance certificate may be issued for a single apartment as well as for an entire building. The price of the certificate for a 60 square meters apartment is around 80 – 100 euros. But be aware that there are also some additional costs for accredited assessor (transport costs for onsite inspection of the property, fees). Instead of submitting a certificate for each part of the building a certificate for the entire building is a less expensive option, if there are enough residents interested in submitting it.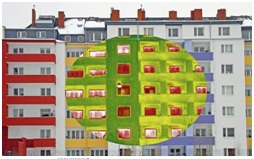 Property owners, who do not intend selling or renting out their property, do NOT need an energy performance certificate.
How to get an energy performance certificate?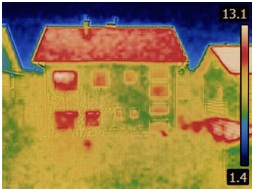 In Slovenia, the ministry responsible for energy is responsible for the licensing of persons who are authorized to produce these certificates. Until now, the Ministry issued 268 licenses to independent experts. You can find your nearest authorized energy assessor HERE. He will carry out the assessment and produce the certificate. Time required to produce an energy performance certificate depends on how complete documentation you provided. The price increases with the number of documents the energy assessor must obtain by himself and if it is necessary to carry out an onsite inspection of the property (additional transport costs).
Minimum information required to produce an energy performance certificate for an apartment includes:
total floor, wall and ceiling area (elements of the thermal envelope of the apartment);
composition of the outer wall and the thickness of the wall materials (for example, AB wall: 20 cm, thermal insulation: 5 cm, plaster);
air conditioned area;
size of the windows;
characteristic of windows (frame, glass etc.);
orientation of the windows, shadings, canopies etc;
thermostatic valves (yes / no), heaters (radiators, convectors etc.);
power of the boiler or the thermal station
Buildings that DON'T NEED an energy performance certificate:
buildings put up for rent for a period shorter than 1 year;
in the event of public interest for expropriation of the building;
buildings under enforcement or bankruptcy proceedings;
buildings passed into ownership of the Republic of Slovenia or a local community on the basis of the decision of succession;
buildings listed as cultural heritage;
buildings used as places of worship and for religious activities;
industrial sites and warehouses;
non-residential agricultural buildings that don't use a lot of energy (do not condition the indoor environment);
simple and unpretentious buildings;
stand-alone buildings with total useful floor space of less than 50 m2.
Links:
http://energetskaizkaznica.si/
http://www.energetika-portal.si/podrocja/energetika/energetske-izkaznice-stavb/
For more detailed information you can contact company SIBIZ at: [email protected]