A new mobile application, Slovenia's Top 50, represents a selection of fifty most interesting Slovenian tourist attractions according to the number of visits to the web portal www.slovenia.info.
It enables guests in Slovenia to see which tourist attractions can be found in their vicinity. Once they decide where to go they can have access to all contact information or navigation instructions if they travel by car. Each presentation of an attraction includes high resolution photographs, contact information (telephone, e-mail, webpage), location on the map, a feature which allows them to see the directions from the user's location to the attraction and a function which allows them to check out local tourist offers.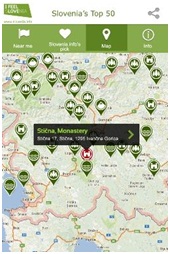 The mobile application also enables the user to make a list of the attractions according to his current location. If he turns on his GPS, he can read information about the distance by road between his location and the chosen attraction. Navigation applications (Apple Maps or Google Map) are only a touch away as well. The navigation application and road map display require a 3G internet connection. If you are still thinking about which tourist attraction to visit, we suggest you have a look at the carefully chosen pictures on your tablet PC. Then it should no longer be difficult to make a decision!
Upload the application on your mobile device:
Apple IOS for iPhone- Slovenia's Top
50Apple IOS for iPad- Slovenia's Top
50Google Android- Slovenia's Top
50Windows Phone 8- Slovenia's Top 50
For more information about Slovenia, please contact us at [email protected]