Source: industrija.finance.si
Author: Mateja Bertoncelj
The Slovenian company Pipistrel is a leading global manufacturer of ultralight motor-gliders and auxiliary powered sailplanes.
At the end of October, NASA successfully tested the prototype of a new twin-hulled glider that is similar to Pipistrel's Taurus G4 four-seat aircraft, the winner of NASA'S Green Flight Challenge in 2011.
Nasa is developing a new aircraft in order to achieve more effective and cheaper launching of smaller satellites into the space.
On 21 October, a prototype of a new twin-hulled glider measuring 9 meters has been successfully tested in the Nasa centre in California (Nasa's Armstrong Flight Research Center). The plane flew twice, both times as expected. The take-off of the glider was under control of the drone (unmanned aerial vehicle).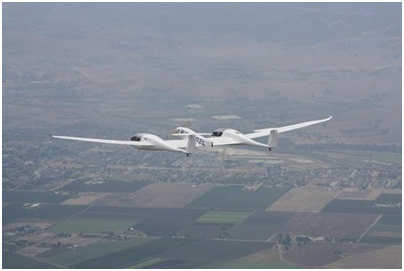 In 2011 Pipistrel won NASA competition for the most energy efficient aircraft with its twin-hulled aircraft Taurus G4 (picture above) and announced that in the future there will also be multi hulled airplanes for passengers. So far this announcement has not yet been realized, but NASA manufactured a twin-hulled drone for launching satellites (picture below).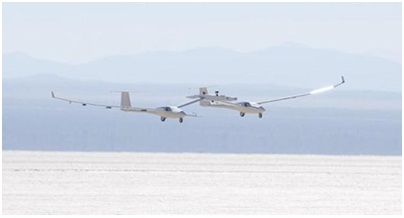 NASA announces that next year it will already be possible to test a further stage of this project and that a rocket will be launched from this twin-hulled aircraft.
Their purpose is to launch satellites from twin-hulled aircraft at 40 thousand feet which would afterwards safely return back to the earth and could be re-used for launching satellites. This would enable simpler and cheaper satellite launching.
Taurus G4 is still number one
New NASA aircraft has a very similar configuration or basic layout of the main aircraft components and its proportions to Pipsitrel Taurus G4. It won NASA competition for the most energy efficient aircraft and received an award of 1.3 million dollars more than three years ago. Besides NASA, Google also took the role of a sponsor of measuring extremely innovative and breakthrough solutions. Pipistrel's plane was able to fly the distance of 500 kilometres at an average speed of 200 kilometres per hour on the electric power, carrying four passengers.
"NASA technical director Joe Parrish said that at this moment our plane carries four passengers twice as far as the Prius and with only half the fuel. This means that Taurus G4 is four times more efficient than at that time most common hybrid car. Taurus G4 is still the first and the only fully electric four-seat plane in the world, "said Ivo Boscarol. The result of the merger of the two gliders is an extremely low resistance, therefore the plane uses less energy. The major advantage is the favourable weight distribution along the wings, especially on the part between fuselages", explained Ivo Boscarol.
Panthera
The Pipistrel Panthera represents a real revolution on the market, mainly due to the low fuel consumption. "We will start with the serial production of Panthera, our four-seat aircraft which belongs to the general category and not to the category of ultra-light aircraft anymore, at the end of the year. Initially, the aircraft will be sold to customers for their private use. For commercial use, we must obtain a certificate. Due to the status of an official aircraft manufacturer we will go through the process faster and cheaper. Earlier we estimated that the certification of Panthera would cost 7 million euros and would take three years, but now this amount will be lowered for at least one million euros and the procedure will be completed in two years. Panthera will be in the market of commercial aircraft sooner and will start to return the invested money. The development of the aircraft, including certification and industrialization, will cost around 15 million euros," predicts Ivo Boscarol.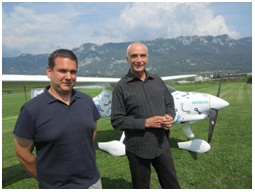 Tine Tomažič and Ivo Boscarol in front of the new plane WATTsUP. Photo: Mateja Bertoncelj
The certificate of official aircraft designer
Pipistrel expects that by the end of the year they will be awarded the certificate of official aircraft designer by EASA (European Aviation Safety Agency). In order to obtain the certificate they need new equipment, a part of it was developed by Trbovlje company Dewesoft that also works for NASA.
Jure Knez from Dewesoft explains: "We are pleased that we had the opportunity to participate in the development of Pipistrel's aircraft. They were focused on the aircraft while we were developing a new measurement instrument and sensors for measuring acceleration and angular velocity. It can also be used in other applications, for example in the automotive industry. It is desirable that during the development of a new product the test area is in the close proximity, since it helps accelerate the development. In the development we have been cooperating with Gorenje and Krško Nuclear Power Plant for a long time, recently also with Akrapovič and Hidria."
Pipistrel will thus become one of the few aircraft manufacturers that have received EASA permission to lead the certification process of a new aircraft themselves. "With the acquisition of the certificate we will become qualified to lead the entire designing process and to construct a new aircraft in accordance with all required safety standards. We will no longer be required to submit a plan or procedure for each step in advance in order to be reviewed and approved by EASA and later on report back to them about our actions, "says Tine Tomažič from Pipistrel. In obtaining the status of an official aircraft designer, the company Pipistrel also cooperates with the companies Robotech and Lupina as well as with Faculty of Mechanical Engineering and Faculty of Electrical Engineering in Ljubljana.
China has already become the most important market
Pipistrel will have already created a fifth of this year's total sales revenue in China. "Chinese market represents a rapidly growing market for us as well and has more potential than all the other markets together", emphasizes the Director of Pipistrel. In China all types of aircraft are sold. They are represented by a subsidiary of Hainan Airlines, the largest private and the fourth largest Chinese airline company that flies all over the world. It owns the third terminal at Beijing airport.
"They are setting a network of 25 sales and service centres of our aircraft in China, which will be completed by the end of next year. Pipistrel Academy will provide a pilot training in each of them. In a long- term perspective, China's market potential is much bigger than the total quantity of aircraft that can be produced in Slovenia and Italy. The plant in Italy is still in the building process and will be completed by the end of next year. Due to the huge potential of the Chinese market we are also considering the option of building new plants, not necessarily in China, perhaps in one of the neighbouring countries, due to logistics and not because of cheaper labour. Namely, aviation has a high added value. The cost of labour in Pipistrel represents only 15 percent of the sale price and for this reason alone it makes no economic sense to move production. There is also an option of selling technology and production rights so that our aircraft could be manufactured by someone else and we could develop new models and types of airplanes with the sales sum," adds the Director of Pipistrel.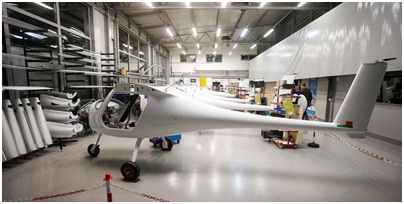 If you would like more information about Slovenian companies, do not hesitate to contact us at: [email protected]