Source: investslovenia.org
Slovenia's economic growth gathered pace in the third quarter of the year as GDP expanded by 3.2% from the same period a year ago, fuelled by export and investment growth, official statistics show.
Adjusted for season and working days, the EU gauge, the country's GDP grew by 0.7% from the second quarter, expanding by 3.1% year-on-year, the Statistics Office reported in its first estimate on Friday.This puts Slovenia high above the average for the EU and the euro zone (0.3% and 0.2%, respectively in Q3 y/y), and makes it one of the economies with the most robust growth.
The country's economic activity increased by 2.7% in the first nine months of the year on the same period in 2013 with exports and fixed capital formation continuing as the main engines of growth. Exports of goods and services increased by 6.8% in the eighth consecutive quarter of growth, with merchandise exports shooting up by 8.2%. The growth in imports picked up too at 5.5%, mainly on account of a 28.5% spike in imports of motor vehicles.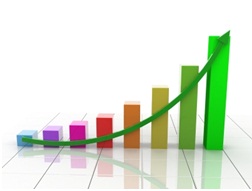 The external trade balance continued to contribute positively to economic growth at 1.4 percentage points. Domestic consumption increased by 1.9%, chiefly due to a 7.2% growth in gross fixed capital formation as construction expanded by another 14%.
This was on account of a 21.7% growth in investment in non-residential buildings and structures, while gross fixed capital formation in residential buildings fell by a further 3.8%.
Due to higher imports of motor vehicles, investment in transport equipment rose by 18.5%. But investment in machinery and equipment declined by 2.7% and investment in intellectual property products increased by 2.6%.
Final consumption rose by 0.6% with private consumption up by 0.8% due to a 9.5% spike in consumption of durable goods on account of a 14% surge in spending on cars.
After a long-running decline, government consumption remained flat compared to a year ago, mainly as a result of a 3.3% increase in the expenditure for goods and services.
If you would like more information about Slovenian economy, do not hesitate to contact us at: [email protected]