Source: www.izvozniki.si
Author: Sabina Petrov
Yulon is the most important manufacturing plant of the Aquafil Group, which has 15 companies on three continents

Slovenian chemical and textile company Yulon, based in Ljubljana, is a manufacturer of polyamide granulate and polyamide fibers for the textile industry (nylon) and floor carpeting. It was one of the first in Slovenia to be taken over by foreign investors. In 1995, its majority shareholder became an Italian company Aquafil, which is now the sole owner of Yulon.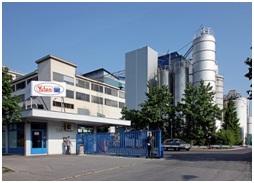 Aquafil Group is a multinational company, based in Trento, Italy, and has a presence in eight countries on three continents with 15 plants in Slovenia, Italy, Germany, Croatia, Scotland, Thailand, China and in the United States. With 2,400 employees they produce about 130,000 tons of polymers and fibers annually. Last year, the Aquafil Group generated revenue of EUR 472 million, profit before tax, interest, depreciation and amortization (EBITDA) amounted to EUR 53 million.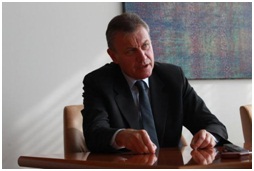 In the interview, member of the board and general manager of Yulon Edi Kraus, outlined the development of the company in the last 20 years and described the business environment in Slovenia.
Mr. Kraus, you are a Slovenian, born and living in Trieste, who is driving to work to Slovenia every day. This is quite unusual, don't you think?
I have been driving to work from Opčine near Trieste, where I live, to Ljubljana, for the past 20 years. In larger European cities, spending an hour in the car driving to work is nothing unusual. I admit that it is a bit odd to say, you are driving to work to another country.
How big was the cultural shock you experienced in the mid-nineties in Slovenia? You have come to work in a country that has barely gained independence and had been communist/socialist just a few years before that.
I must say that I was lucky. Not only because I am a member of the Slovenian minority in Italy and am therefore familiar with both cultures and languages, but also because through my activities in sports as well as through our family travel agency, that we have been running in Trieste for the past 50 years, I already knew this country, her way of thinking and doing business. I came to Slovenia, together with the current CEO of Aquafil and Chairman of the Management Committee of Yulon Giulio Bonazzi, who, after acquisition of Yulon, moved with his family to Ljubljana for a few years in order to take care of the transition of the company to the standards and methods of Western Europe. I learned from him how to manage a large industrial company. Prior to that time, I had no such knowledge.
What has changed for the employees of Yulon?
Western standards and working methods were a big novelty in this region then. While lower employment structures have adapted themselves to the changes, large part of of the leading personnel could not and left the company. We have then started to employ young, motivated people, who were not burdened by the old ways of working or did not know them at all. So we now have a lot of management staff under age of 50; who already has 20 years of experience in leading positions. It was not easy then, but today that's one of the key advantages of our company.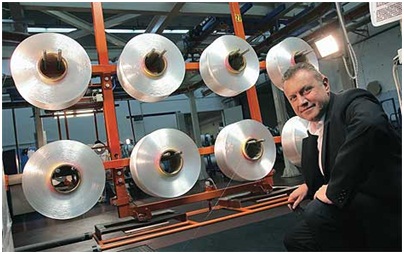 And what are the main advantages in favor of the decision by Italian investors to invest in Slovenia?
Speaking from the perspective of the northern part of Italy, it is certainly very important that these two parts of Europe are geographically very close. That is certainly a great advantage for an Italian company that decides to set up production facilities in Slovenia because the proximity allows daily physical contact. It is very convinient for a businessman from Vicenza or Verona that he can drive to Slovenia and return home in the same day. Because of this, transfer of knowledge, technologies, practices and so on can take place very fast.
The advantage of Slovenia is also lower labor and energy costs than in Italy, which makes investment's payback period much shorter.
I think the most important advantage is foreign language skills of Slovenian employees. It is widely known that almost all people here speak English. Beside that, for an Italian company a great benefit is bilingualism of both minorities – Italian minority in Slovenia and Slovenian in Italy, and the fact, that Slovenian population living along the Italian border speaks Italian.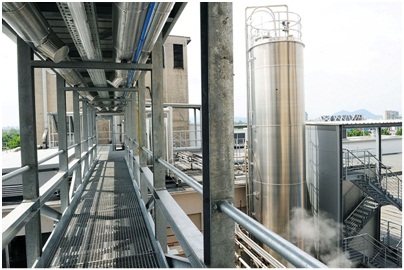 The internationalization process of Aquafil Group actually began with the acquisition of Slovenian company Yulon. Can you tell us more about that?
Yes, Yulon was the first foreign investment of the Aquafil Group. On February 1st next year, it will be exactly 20 years since Yulon joined Aquafil. I guess we have been breaking new ground in this, since we were one of the first foreign companies acquiring a Slovenian firm after the country gained independence. We were also the only ones that carried out privatization through a capital increase. After us, no other company decided for this form of privatization. To this very day, we are still the largest Italian investment in Slovenia. This was later followed by Aquafil's investments in Croatia and elsewhere in Europe, in Asia and in the United States.
What are the main differences between Yulon then and Yulon now?
The main difference is that in 1994 Yulon had 556 employees and revenue of 17 million German marks, whereas today, our company at four locations in Slovenia – in Ljubljana, Celje, Ajdovščina and Senožeče – has about 800 employees and generates more than EUR 223 million in revenues. Right behind the Slovenian border – in Croatia, we have another 320.
How did you achieve that?
It's a combination of various factors. But mainly with generous investment – more than one hundred million in 20 years – in modernization of production, partial robotization of the factory, process optimization. Another important factor was the redirection of the company toward high quality products – products that are not being offered by other companies from Eastern Europe or China. The third important factor was the possibility to sell products of Yulon through the parent company Aquafil and benefit from the 'made in Italy' label.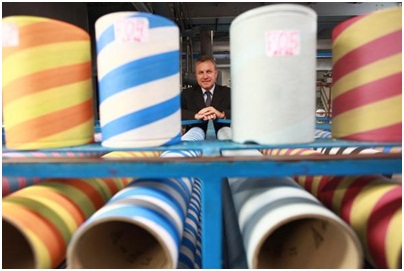 Where can end customers and consumers encounter your products? Where are your products – polyamide fibers or filaments – being used?
Customers of our high-quality polyamide filaments are coming from the floor carpeting and textile industry. Floor carpeting industry uses it in production of floor coverings for publicly accessible buildings, such as hotels, offices and the like, the automotive industry in floor mats for upmarket cars. In the textile industry, however, our polyamide fibers are being used for making yarns for the fashion, sportswear and underwear sectors. We have more than 600 clients from all over the world; among them many world-famous brands in the automotive industry as well as in the underwear, swimwear and sportswear industries.
What are your main competitive advantages compared to your competitors? How do you convince your customers to decide for you and your products?
First and foremost with superior quality of our products, that is a result of the excellent work of our employees. High quality products are being manufactured with most modern machinery and production lines; without any doubt, our factory is one of the most modern in the world. Important competitive advantages are also the guidelines, which we constantly receive from Italy, about what kind of materials and products should we develop. Italy is still a global trendsetter, not only in fashion. Furthermore, our customers value our flexibility and short delivery time, which are made possible by our sophisticated manufacturing and logistics processes.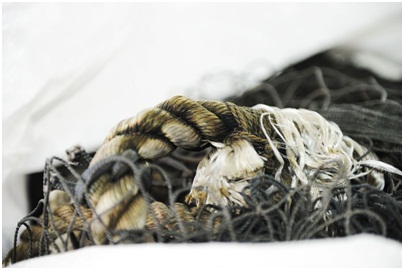 In 2010 Julon invested EUR 17.3 million in the new plant for production of entirely recycled polyamide 6, that you named econyl.
Econyl is an innovative fiber made of 100 % post-industrial and post consumer waste, for example, old fishing nets or carpet production waste. It is extremely durable and can later be recycled into itself – in a closed-loop recycling system, it becomes a new raw material for the next carpet. This technological innovation is the result of work performed by our development engineers from Aquafilovih factories in Slovenia, Italy, Germany, the US and Slovakia in 2007. It is the only plant in the world that produces polyamide fibers from 100% recycled material. And it will stay that way for at least another 10 or 15 years, because our engineers succeeded in developing a truly unique technology that our competitors will not be able to emulate for quite some time. Currently ecological polyamide fibers represent about 10% percent of our sales.
If you would like more information about Slovenian companies, do not hesitate to contact us at: [email protected]