Source: www.investslovenia.org
Author: Slovenian Press Agency
The Organization for Economic Cooperation and Development (OECD) expects Slovenia's economy to expand by 0.3% this year, a growth that is to accelerate to 1.2% in 2015, but warns the country of the pressing need of corporate restructuring and privatization.
The latest outlook, released on Tuesday, is an upgrade on the OECD's November forecast of a 0.9% contraction for Slovenia for this and a 0.3% growth for the next year. The correction was expected following upgrades by several other forecasters.
Slovenia's economic output is projected to start growing again this year as stronger foreign demand boosts exports. But sustained weaknesses in the banking sector and needed debt reduction in the corporate sector will weigh on investment, while continued fiscal consolidation will be a further drag on demand.
"With a gradual recovery in domestic demand and continued pick-up in exports, activity should gather pace in 2015. Large slack and high unemployment will keep inflation low," the OECD says.
The organization also underscores that "restructuring over-indebted companies should proceed without delay, accompanied by privatization and improved corporate governance."
The OECD moreover points to the need to consolidate the banking sector and strengthen bank supervision and maintains that "a new pension reform will soon be needed" and "active labour market policies could be strengthened and labour market duality reduced further".
Slovenia's unemployment rate is projected to stand at 10.2% in 2014 and 2015, while general government deficit is forecast to drop from 4.1% of GDP in 2014 to 2.6% in 2015 and inflation rise from 0.7% this year to 0.9% in 2015.
The OECD outlook comes on the heels of the European Commission's upgrading its forecast for Slovenia to 0.8% growth for this year and 1.4% for the next. The International Monetary Fund projected in April that Slovenia's GDP growth will be boosted from 0.3% this year to 0.9% in 2015.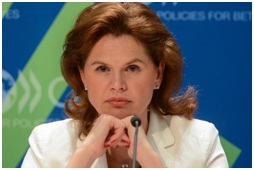 Slovenia's outgoing Prime Minister Alenka Bratušek, who is currently visiting the OECD headquarters in Paris, was looking forward to a more upbeat outlook already on Monday.
"Virtually all international and domestic institutions have changed their forecasts for our country for this year and the next from bad to much better, which proves we did our job more than well last year," Bratušek told the STA.
Despite the current political deadlock in the country, she believes Slovenia is on track. "Even this snap election won't be a reason for Slovenia to face another crisis. I'm positive that we'll continue on the path of even greater and better economic activity," she said.