Ljubljana Jože Pučnik Airport has announced that Wizz Air is considering launching new flights to the Slovenian capital next year, following the successful start to its operations in October. "Initial aircraft capacity rates are good.
Should they remain so, the carrier has expressed interest in adding new connections as early as next year", the airport said in its financial report. Wizz launched flights from Charleroi and London Luton to Ljubljana at the start of the 2012/2013 winter season.
The low cost airline competes with easyJet on the London service, though the two no frills carriers operate flights to different airports. Indirectly, Wizz Air also has competition on the Charleroi route in Belgium, with Adria Airways operating flights Brussels.
Ljubljana Airport handled 94.825 passengers in October, latest data from the Slovenian Statistical Office shows. Numbers plunged 15.8% compared to the same month last year. By the end of October Slovenia's busiest airport welcomed 1.028.190, down 14.5% on 2011. "In general, the economic and political situation in Slovenia and Europe overall is reflected in a decline in business and tourist travel. Despite the fact that Ljubljana Airport is attempting to attract new carriers by adapting its pricing policy, through attractive offers of its services and by increasing activities aimed at attracting new markets, carriers are cautious in establishing new connections to Slovenia due to the high risk of low aircraft capacity rates", the airport says.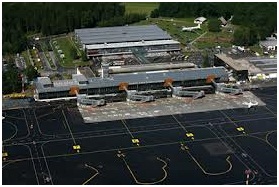 Despite declining passenger numbers and a small drop in revenue in 2012, the airport will go ahead with the construction of a new terminal next year. Work is set to begin sometime during 2013 with the construction of the new terminal to be completed by January 15, 2015 at the latest. Contractors will have one year and eight months to complete all necessary work. The building will have the capacity to handle up to 1.800 passengers per hour and stretches over 31.200 square metres.