Pozavarovalnica Sava CEO Zvonko Ivanušič talking to the press.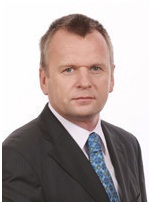 Ljubljana, 25 March (STA) – Sava Re reinsurance group saw a 4.8% increase in premiums collected in 2012 to EUR 217m. It recorded an even steeper growth in profit, which nearly tripled to EUR 11.8m. The group is comprised of ten companies in six countries of the former Yugoslavia.
Pozavarovalnica Sava CEO Zvonko Ivanušič said that the supervisors of core company were happy with the operations of Pozavarovalnica Sava and of the group, especially due to the improvement in results in the markets of former Yugoslavia.
The reinsurance premiums collected abroad increased last year, but the results were affected by natural disasters. Reinsurance portfolio in Slovenia moreover suffered great damage after autumn floods. The portfolio abroad was damaged by 2011 floods in Thailand and hurricane Sandy in the US.
Last year, the reinsurer continued reducing the share of premiums collected in Slovenia and increasing the share of premiums collected abroad. The premiums from abroad make up 53.8% of all premiums collected by the group.
"We want to become an international company exporting its services to international markets – the domestic market is too sensitive to various factors," said Ivanušič.
The core company improved its results last year as well. Premiums collected increased by nearly 9% to EUR 152.8m and net profit went up 11% to EUR 9.6m.
This year, Slovenia's third largest insurer Zavarovalnica Maribor (ZM) will join the Sava Re group. Pozavarovalnica Sava sealed the deal on ZM takeover last year. Before that the reinsurer held 49% in ZM.
The takeover will make the Sava Re group the second biggest insurance group in SE Europe. Pozavarovalnica Sava will fund the acquisition with a EUR 55m recapitalisation.
The recapitalisation is expected to be approved by the Securities Market Agency in the third week of April, according to Ivanušič. He said that management members will take part in the recapitalisation.
Share price will be based on demand and it will reach between EUR 7 and EUR 9. Ivanušič believes that the recapitalisation will be a success and that the move will improve the company's credit rating.