Ljubljana, 3 May (STA) – Slovenia has positive experience with Russian investments, President Borut Pahor said as he welcomed in Ljubljana on Friday Russian Foreign Minister Sergey Lavrov, who arrived for a working visit dedicated to bilateral ties, especially in trade and investments.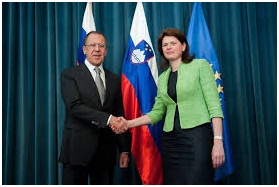 Photo: www.siol.net
Pahor asked Lavrov to forward Russian President Vladimir Putin an invitation to visit Slovenia in 2016 on the centenary of the Russian Chapel built as a memorial for some 300 Russian POWs who died in an avalanche while building the Vršič mountain pass (NW) in WWI.
Lavrov pointed to the significance that the Russian Chapel holds for the Russian people. Russia wishes to mark the centenary of the memorial with special honours, he was quoted as saying in the press release from the president's office.
Pahor and Lavrov agreed to further promote friendly relations between the two countries on all levels, including economy, culture, science and sports, as well as bilateral and multilateral political ties.
In the past years, Slovenia and Russia have taken their relations to a higher level by signing a number of agreements and international documents.
In this way, the countries created "ties between two strategic partners, which is reflected in numerous business initiatives, in the cooperation on the project of modernisation of Russia's economy and cooperation in the framework of the EU and the UN," said the press release.
The planned South Stream gas pipeline, which will supply Russian gas to Europe, is one of the key joint projects of the two countries in energy and infrastructure, according to Lavrov, who is in Slovenia only a week after a visit by Alexei Miller, the boss of Russian energy giant Gazprom.
Thus, the pair wants to continue the support for strategic partnerships between the EU and Russia. Lavrov moreover expressed support for the Forum of Slavic Cultures, which has been established by Russia and Slovenia. He promised Russia would continue to cooperate the forum and support it.
Pahor and Lavrov also touched on other topical issues in foreign policy, especially the situation in the Western Balkans. They expressed support for further strengthening of political dialogue and activities, which will lead to solutions to the remaining open issues in the region.
After meeting Pahor, Lavrov was scheduled to meet Prime Minister Alenka Bratušek in Ljubljana, after which he will travel to the Brdo pri Kranju estate for talks with his Slovenian counterpart Karl Erjavec.
The two foreign ministers are set to sign an agreement on war graves, a step to commemorate Russians that lost their lives in Slovenia during WWII, and an agreement on culture, science, education and sport for the period 2013-2015.