Ljubljana, 25 February (STA) – Slovenia broke a new tourist record in 2012, as the number of tourists increased by 2% over the year before to 3.2 million and overnight stays grew by 1% to 9.4 million on the back of a 6% increase in foreign visitors.
The number of foreign tourists in Slovenia grew to 2.1 million and they generated 5.7 million overnight stays, according to a press release from the tourism and investment promotion agency Spirit Slovenija following the tourism data released by the Statistics Office on Monday.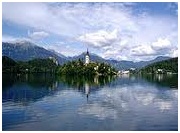 While the number of domestic tourists declined by 3% in the view of the economic situation, the results were very good with guests from Germany (9% more) and Austria (8% more).
Despite a small decline, Italians remain the most common guests in Slovenia, accounting for almost a million stays in 2012.
Strong increases were also recorded in the number of guests from Russia (36% more overnight stays), the Netherlands (26%), Japan (19%) and China (38% more guests and 8% more stays), indicating great potential for the future, the agency wrote.
Marjan Hribar of the tourism and internationalisation directorate of the Economy Ministry said he was happy to see tourism as a great exception generating growth in the time of crisis, adding that even more energy would be invested in boosting tourism.
Along with the record-breaking results, he was also happy to see increasing interest of foreign investors in Slovenian tourism.
Spirit acting director Boštjan Skalar meanwhile noted that the positive trend in the difficult economic conditions proved that tourism was one of Slovenia's key industries.