Ljubljana, 21 February (STA) – Lauding the strong bilateral relations and pointing to a strong desire for advancement of ties, Vienna-based Azerbaijani Ambassador to Slovenia Galib Israfilov has said Slovenian companies have extensive opportunities in Azerbaijan, which is also prepared to invest in Slovenia.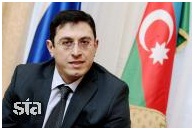 Azerbaijani Ambassador to Slovenia Galib Israfilov
"In recent times we have put in place a platform for economic development, which means that opportunities abound in almost all areas," Israfilov said in an interview with the STA in the wake of the mid-January visit by Slovenian PM Janez Janša to Azerbaijan.
According to him, Slovenia is best known in Azerbaijan for its advanced engineering, telecommunications solutions, energy, pharmaceutical and tourism sectors. "It is in these areas, and also in sectors such as information technology, that Slovenian companies can look for opportunities in Azerbaijan."
Moreover, Azerbaijan sees great potential for investment in Slovenia. Israfilov pointed to Slovenia's tourism industry and its geographic position as areas of interest. "Slovenia can be an excellent springboard for Azerbaijani companies in this part of the EU."
Israfilov also believes the countries can set up joint ventures on third markets, especially in Central Asia. "The platform has been put in place and Azerbaijan is interested in joint projects and ventures in places such as Turkey."
He stressed that Slovenia and Azerbaijan are young countries bound by similar values, culture and history.
"One of the ties binding the countries is the Azerbaijani and Slovenian national hero Mehdi Huseynzade Mikhailo, as well as other Azerbaijanis who fought and died in Slovenia during World War II."
Asked about the situation in Central Asia, Israfilov said his country's goal is for the region to achieve a stable environment comparable to what the EU has achieved.
"Considering its neighbours, Azerbaijan is in a somewhat more challenging region. Nevertheless, we are developing relations with all neighbours, except Armenia due to their occupation of Nagorno Karabakh."
He reiterated that it was impossible for Azerbaijan to have good relations with Armenia "as long as they occupy a fifth of Azerbaijani territory and one in nine people in Azerbaijan are refugees from Nagorno Karabakh".
Asked about Azerbaijan's conditions for normalisation of ties with Armenia, Israfilov responded: "What the international community is demanding as well: withdrawal of Armenian forces from our territory.
"If that happens, Azerbaijan will assume responsibility for the settlement of relations between the Armenian and Azerbaijani communities in Nagorno Karabakh, it would also make significant investments in this part of Azerbaijan."
He said the EU can help with resolving the Nagorno Karabakh dispute by actively entering the region and unifying its position on the dispute.
"The EU is best known here as a financial donor, but it is yet to go beyond that in the region. It is our opinion that the EU should play a greater role in Central Asia, including in our dispute with Armenia."
Meanwhile, Israfilov highlighted Azerbaijan's efforts to boost relations with all countries in the region and broader.
"Azerbaijan has invested extensively in Georgia, where, for example, the Azerbaijani oil company, SOCAR, is the single biggest taxpayer, as well as in Ukraine, Kazakhstan, Romania, Serbia and elsewhere."