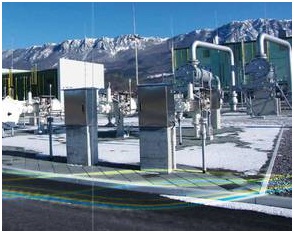 Photo – source: Geoplin Plinovodi
It is encouraging to note that Russian companies are seeking investment opportunities in Slovenia, particularly in transport infrastructure. The largest Russian investment in Slovenia, worth one billion euros, is the South Stream gas pipeline. Works on this project are expected to start by the end of this year.
The South Stream pipeline project is the project of national significance and will have a positive impact on energy security in Europe.
The establishment of the South Stream Slovenia joint venture, which is jointly owned byGazprom and the Slovenian company, Plinovodi, is in its final phase. The contract for establishing the venture was signed by Alexey Miller, the CEO of the Russioan energy giant, Gazprom and the CEO of Plinovodi, Marjan Eberlinc, on 31 May in Portorož, where they met at the opening of the European Business Congress where more than 200 delegates and guests from 24 Member States of the Organization for Security and Co-operation in Europe (OSCE) discussed energy security and new opportunities for natural gas.
Gazprom and Plinovodi will each have a 50% share in the venture, which will have its registered office in Slovenia. The company will be managed by two directors, one from each partner. According to Mr Eberlinc, the feasibility study for the South Stream pipeline route in Slovenia has been developed and approved by both partners, and will be specified in more detail during the course of the siting procedures, in accordance with Slovenian legislation. The total investment is worth approximately EUR 1 billion.
The final decision on the route of the whole length of the South Stream pipeline will be known by November. The final map of the route is expected to include Bulgaria, Slovenia, Serbia and Hungary, while Austria has not been included thus far. In January, Gazprom decided to begin construction in December this year, and not in 2013 as previously planned. The pipeline, the construction of which is estimated to be worth approximately EUR 16.5 billion and which should have a capacity of 63 billion cubic metres of natural gas per year, is to be completed by 2015, and the first supplies of gas are expected to arrive by the end of that year